Clarence Austin the Photographer
and the Bridport Wildcat Women
Original research about an unknown early documentary photographer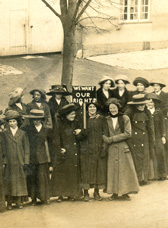 by Carlos Guarita
Over a century ago women workers in Gundry's net and rope factory in the small town of Bridport, Dorset staged a wildcat strike. They picketed the factory. They marched round the streets singing suffragette songs. They refused arbitration by the local Tory MP, and the dispute had to be settled by a trade union official from London.
Like much popular history, this would all be forgotten except that a young photographer Clarence Henry Austin was there to record the scenes. Original research has unearthed new material about this unknown but gifted early documentary photographer, his historic pictures and his untimely end.
21 X 15 cm, 50 pages.

With 27 pages of B&W photographic and graphic illustrations

Price 8 GBP plus p+p (which amounts to a total of 11 GBP for the UK, 13 GBP for Europe, 16 GBP for the rest of the world)

ISBN 978 1 907352 07 2
Or you can send us a cheque with a clear return address and you will receive the item within 28 days.
Just Press: Celebrating the unorthodox