The Domestic Theatre Handbook
Instant plays, anywhere, any time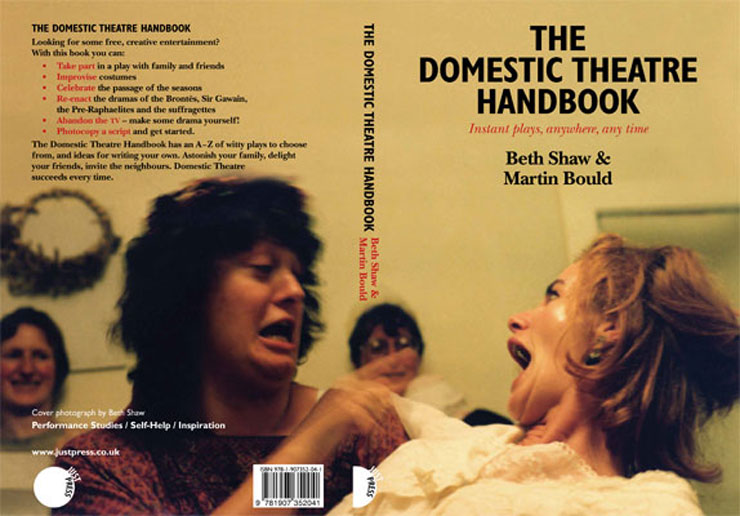 by Beth Shaw and Martin Bould
The Domestic Theatre Handbook contains an A—Z of witty rhyming plays based on well-known stories and characters, from Alice via Sir Gawain and the Suffragettes to The Prisoner of Zenda, with handy hints on writing your own plays and mounting impromptu performances for D-I-Y entertainment in homes, cafes, or community centres.
Domestic theatre means no stage, no learning lines, no rehearsal and no expense. Just chose a part, improvise a costume, pick up a script, and go with the flow — or join in as a member of the audience. The plays are short, with larger-than life characters, and bounce along in outrageous rhyming couplets.
Co-writers Beth Shaw and Martin Bould have been exploring this form of creative enjoyment for the last 20 years, and distil their experience and their favourite stories in this easy-to-use handbook.
23.4 x 15.6 cm, 369 pages.
Includes 8 pages of colour photographs.
Contains:
An A—Z of plays to photocopy
An easy guide to putting on a play in your own home
Ideas to spark your imagination
Guidelines for writing your own play
Tips for community settings.
Price £18 plus p+p (which amounts to a total of £22 for the UK, £27 for Europe, £35 for the rest of the world)
Or you can send us a cheque with a clear return address and you will receive the item within 28 days.
Just Press: Celebrating the unorthodox