Holy Trees
and other ecological surprises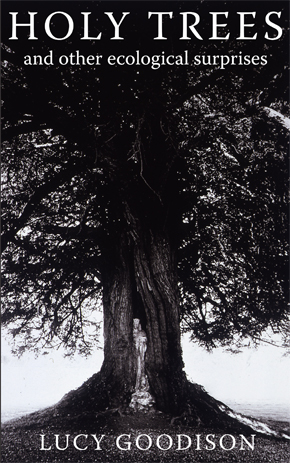 by Lucy Goodison
This book tells the untold story of a popular cult of holy trees which can be traced back over 3,000 years and - despite official repression - survives in parts of Europe today.
How are we to understand this intriguing visionary tradition, and how is it reframed in contemporary experiences?
And in the context of today's ecological crisis, what are the new possibilities for our relationship with trees and with the natural world?
23 x 17 cm 248 pages
With 18 pages of B&W photographic and graphic illustrations.
CONTENTS
Introduction: If God Were a Tree
Chapter One: Sacred Trees of Early Greece
Chapter Two: The Miracle Tree and the Apparition of the Virgin
Chapter Three: The Magical Staff and the Healing Bough
Chapter Four: Oracle Trees - Linking Past and Future
Chapter Five: Forces of Nature
Picture Source List
Index
Price 12 GBP plus p+p (which amounts to a total of 15 GBP for the UK, 17 GBP for Europe, 20 GBP for the rest of the world)
Or you can send us a cheque with a clear return address and you will receive the item within 28 days.
Just Press: Celebrating the unorthodox